By Ian Landau
So hopefully now you have your equipment sorted. Next on our agenda is getting you on your cyclocross bike—and getting you used to riding off-road fast.
You may have seen a lot of cool YouTube cross videos of guys flying at breakneck speed over barriers and effortlessly shouldering their bikes on run-ups. That'll come for you. But for now, just try to get out there and ride your cyclocross bike off-road, getting used to how the bike handles on grass, over dirt, and in sand, if you can find some to ride through.
If you come from a mountain-bike background, you'll have the advantage of being used to riding on unstable ground and used to how a bike handles off the road. However, if you're riding a cyclocross bike, it will handle very differently than your road bike, so you'd better get used to how the bike rides before you try out racing.
While riding off-road, work on your bike handling. Take a lot of tight turns around trees or other obstacles. Remember that when you're cornering, look through the turn and aim with your eyes where you want to go. If you look at the apex, thinking, Holy crapola—I'm gonna go down! you will. If you look through the apex and around the turn, that's where you will go.
If you live in New York City, practicing riding off-road is a bit of a pain. The Parks Department doesn't take kindly to people riding on the grass in its parks. You can practice at Cunningham Park in Queens and at Inwood Hill Park in Upper Manhattan, both of which have designated MTB trails. Those at Cunningham are better for cyclocross, though, as the ones in Inwood can be a bit too agro for a cross bike.
If you live outside the city, find some easy single track and practice bombing through it on your cross bike. Doing so will make you a better rider.
Now the flashy techniques that make cross such a party!
To learn how to dismount and remount your bike properly, check out some videos. Even better, look for a cyclocross clinic early in the season. CRCA is running a regular clinic for members on Thursday mornings. Adam Myerson's Solutions for Cyclo-Cross DVD is an excellent resource. Sames goes for barrier technique—online vids and Myerson's video will teach you all you need to know. (Need barriers? Build your own, easy and cheap. Read "Make cyclocross barriers from PVC.")
One word of advice regarding cross technique: A lot of beginners obsess over how many steps to take before a set of barriers, or how to get rid of their stutter step when remounting. The truth is, those things will work themselves out with practice and good old experience.
In the end, being able to handle your bike well in mud, sand, and gravel, as well as across off-cambers and in tight turns will save you way more time in the course of a race than one extra step over the barriers ever will. Crashing while cornering will slow you down way more than a stutter step. So don't worry about those little techniques off the bat. Just get better at riding fast.
As for cross-specific training, again, there are several places online that have information from more reliable sources than little old me. Adam Myerson's Cycle-Smart site has a section of articles devoted to CX training. But in a nutshell, a cross race is part time trial, part crit, and part pure, sweet hell.
Cross races are ridden at your max from the starting gun till you cross the finish line. Breaking it down, you need to be good at time trialing and riding at your max for at least 40 minutes; you need to be able produce a lot of power to sprint out of corners; and you need to be able to go into the red zone repeatedly without completely blowing up. In other words, fitness counts.
There's nowhere to hide in a cross race. No pack to sit in. You're out there on your own, with just the guy ahead of you as the carrot, and the guy behind you as the stick.
A couple more things to know: You have to warm up well. You'll be on the limit from the starting gun, and you can't get to the line cold. Also key is preriding the course. Ride the course at a slow speed and see what the best lines are—and where you might have to get off the bike and run.
As you do more and more races, you'll begin to figure out what your strengths and weaknesses are. Maybe you're strong on the straightaways and lose time when things get technical, or vice versa.
So where do you find the races, and how does it all work?
The best place to look for races is on BikeReg.com. The closest cross races to NYC are the Westwood Velo Cross, on Oct. 25, and StatenCX, on Staten Island, the Sunday of Thanksgiving weekend.
As a beginner, when you register, you'll want to sign up for the Cat. 4 race or C race. A few seasons ago, USA Cycling decided to institute categories for cyclocross that mimic the road Cats. Cross Cats start at Cat. 4. After five cross races, you can automatically upgrade to Cat. 3.
In the old days—three years ago or so—cross races were way more loosey-goosey. There were usually A, B, and C races, women's race, and maybe a masters' 35+/45+ race. You self-selected which race you wanted to do. This system changed so relatively recently that you'll still hear racers and promoters referring to a beginner race as "the C race."
Depending on how big the fields are expected to be, promoters also might run a 3/4 field as the C race. The thing to remember is that you should start off with the cat 4 or C race.
If you don't have a USA Cycling annual license, you'll need to buy a one-day license at the race. These cost $10, and you can register for a race on BikeReg.com without a license. You just won't be able to race without being licensed.
That about wraps it up for what you need to know to get started on your cyclocross adventure.
Have fun gettin' muddy! (Because there will be mud.)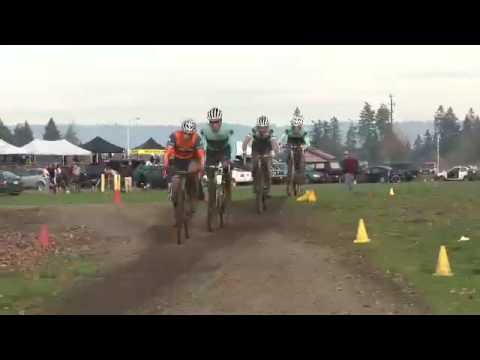 Ian Landau is a contributing editor to CyclingReporter.com. He lives in Brooklyn, New York, and is a familiar face at road and cyclocross races up and down the East Coast.